Episodes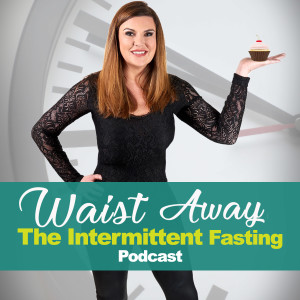 Monday Dec 26, 2022
Monday Dec 26, 2022
Welcome back to the podcast! In today's episode, Chantel spoke again with returning guest Gin Stephens! Gin Stephens is the author of Clean(ish) (2022), Fast. Feast. Repeat. (2020), an instant New York Times and USA Today bestseller, and Delay, Don't Deny: Living an Intermittent Fasting Lifestyle (2016), an Amazon #1 best seller in the weight loss category. 
Gin has been living the intermittent fasting lifestyle since 2014. This lifestyle shift allowed her to lose over 80 lbs. and launch her intermittent fasting website, Facebook support groups, four self-published books, and three top-ranked podcasts—Intermittent Fasting Stories, where Gin talks to a variety of intermittent fasters from around the world, The Intermittent Fasting Podcast, with cohost Melanie Avalon, and Life Lessons, with cohost Sheri Bullock. Gin graduated from the Institute of Integrative Nutrition's Health Coach Training Program (2019). 
She earned a Doctor of Education degree in Gifted and Talented Education (2009), a Master's degree in Natural Sciences (1997), and a Bachelor's degree in Elementary Education (1990). She taught elementary school for 28 years, and has worked with adult learners in a number of settings. She splits her time between Augusta, Georgia and Myrtle Beach, South Carolina, where she lives with her husband and their three cats. Gin is also a mother to two adult sons (and she is thankful every day for the intermittent fasting lifestyle that makes her life easier). Connect with Gin at ginstephens.com or join her membership community by visiting ginstephens.com/community.
Enjoy!
Connect with Gin:
Other Episodes with Gin:
https://chantelray.podbean.com/e/265-talking-fast-feast-and-repeat-with-gin-stephens/ 
https://chantelray.podbean.com/e/163-the-fasting-reset-summit-special-preview-with-gin-stephens/ 
https://chantelray.podbean.com/e/wa111/ 
Today's Episode Is Sponsored By BiOptimizers Magnesium Breakthrough:
http://bioptimizers.com/waistaway  
Use code waistaway for a special discount!
Today's Episode Is Sponsored By CollaGenius:
www.nootopia.com/waistawaygenius 
Use code waistaway10 for a special discount!
Check Out The Magnesium Lotion Shop:
Use code CHANTEL10 at checkout for your discount!
https://magnesiumlotionshop.com/ 
ConnectIn40 Group:
Join Our Facebook Group:
https://www.facebook.com/groups/TheChantelRayWay/
Get your Top 30 Fasting Questions Answered:
https://chantelrayway.com/top30gift/ 
Order One Meal And A Tasting:
https://chantelrayway.com/onemeal/ 
Order All The Books:
Waist Away: The Chantel Ray Way - 2nd Edition:  https://www.amazon.com/gp/product/0999823116/ref=dbs_a_def_rwt_hsch_vapi_tpbk_p1_i0 
Fasting to Freedom: The Gift of Fasting: https://www.amazon.com/Fasting-Freedom-Gift-Chantel-Ray/dp/0999823132/ref=tmm_pap_swatch_0?_encoding=UTF8&qid=&sr= 
Freedom From Food: A Six Week Bible Study Course: https://www.amazon.com/Freedom-Food-Bible-Study-Course/dp/0999823159/ref=pd_bxgy_img_3/135-7722513-4171815?_encoding=UTF8&pd_rd_i=0999823159&pd_rd_r=91d59435-2126-4f9d-867e-00646964e3e4&pd_rd_w=mg3U0&pd_rd_wg=FcVwL&pf_rd_p=fd3ebcd0-c1a2-44cf-aba2-bbf4810b3732&pf_rd_r=NWM3687GJSRKKQ4BYQP4&psc=1&refRID=NWM3687GJSRKKQ4BYQP4 
Connect With Us:
Leave us a review: https://chantelrayway.com/review/ 
Share YOUR Story: https://chantelrayway.com/contact/
Contact directly through email at questions@chantelrayway.com 
Enjoy refreshing, all-natural wine: https://chantelrayway.com/wine/
Listen to the new audiobook as a podcast HERE: https://chantelrayway.com/purchase-audio-book/
Free Video Preview: https://chantelrayway.com/top-12-thin-eater-tips-free-video/
Check out the VIDEO COURSE here: https://chantelrayway.com/video-course/
Check out the FASTING RESET SUMMIT HERE: https://fastingresetsummit.com/
Purchase on Amazon Here: https://www.amazon.com/shop/intermittentfastingthechantelrayway
Strengthen your immune system with Vitamin C: https://chantelrayway.com/vitaminc/ 
Enjoy a FREE smoothie recipe book: https://chantelrayway.com/freerecipe/
Re-energize with nutritious algae Energybits: https://chantelrayway.com/energybits 
Castor Oil: https://chantelrayway.com/castoroil
Connect with us on Social Media:
YouTube Channel Link: https://www.youtube.com/channel/UCteFjiVaY6n0SOAixcyZbWA
Like us on Facebook at https://www.facebook.com/TheChantelRayWay    
Things we love: https://chantelrayway.com/things-i-love-2/
Facebook group: https://www.facebook.com/groups/TheChantelRayWay
***As always, this podcast is not designed to diagnose, treat, prevent or cure any condition and is for information purposes only. Please consult with your healthcare professional before making any changes to your current lifestyle.***